Newsletter
Each week Morialta produces a newsletter containing current and upcoming events. Please use the links below to access current and past newsletters.
Vision Magazine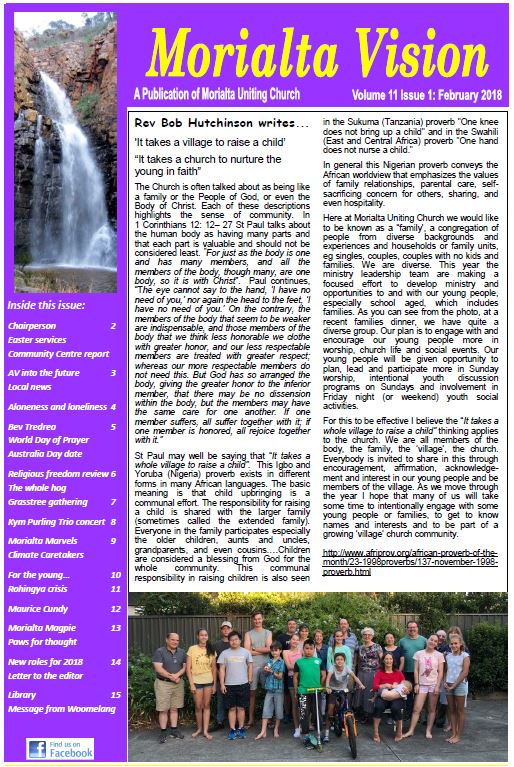 Morialta publishes the Morialta Vision magazine bi-monthly. Please use the links below to access current Vision issues.
Project Information
Property Rationalisation Project
The Meeting of the Congregation earlier this month referred this matter to Church Council for decision. At its meeting this week, Council considered a report from the Project Working Group, which covered the specific option the team was asked to investigate and cost, ie demolish the existing house at 24 Chapel St, subdivide the block and build two four bedroom houses side by side while continuing the student accommodation program at 10 College Dve, then sell the College Dve house to cover the cost of the new houses. The plan was for this to be done in the 2017 academic year.
Two critical issues became apparent during the investigation:
1. The preparatory work of design, surveying, engineering tests and approvals takes several months and it would be foolhardy to rush these processes.
2. The sale of 10 College Dve along with all the associated costs of the project would fall well short of the cost of building two new four bedroom houses.
Council therefore resolved to:
1. Defer any specific planning work to 2017
2. Defer a decision on what we should do with our two existing homes until later this year
3. If we decide to do any building, this should be done in 2018.
Chris Ayles For Church Council and the Project Team
Courtyard Redevelopment Project
Project currently on hold
Podcasts
Morialta provides a weekly podcast of our readings and sermons – To subscribe to our podcasts or listen online click here.
Videos (VODcasts)
Sermons and readings from most weeks
"Beyond our Walls"
Once a month Morialta records the full service to enable other churches and people who cannot attend on the day can share our worship.
Videos of special events at Morialta
Articles of Interest
Professor Bob Douglas
Talk presented at Morialta UCA on Saturday 8 October
transforming-for-human-survival
Rosters
Lunch on Chapel
LoC ROSTER FEBRUARY TO APRIL 2018
Worship Roster
Worship Roster March to May 2018
Brochures
Links to other sites
hearts on fire – 14 Triennial Assembly
Uniting Church in South Australia 
Centre for Music Liturgy & the Arts
Pitt St Uniting Church (Sydney)
Making Church Decisions